21 July, 2017
Funding available now to restore Scotland's peatlands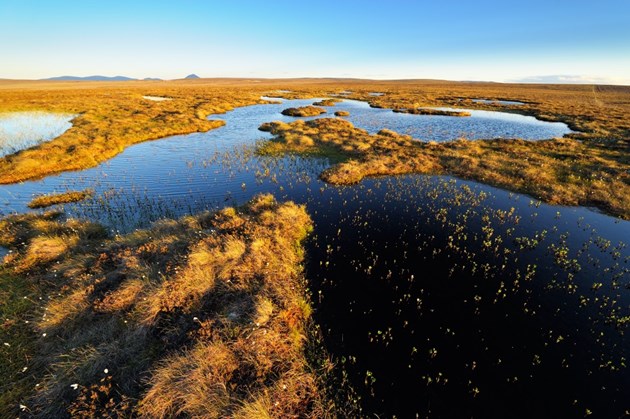 Scottish Natural Heritage (SNH) today urged land owners, managers, farmers, crofters and estates to apply for funding to help protect precious peatlands.
From Shetland to the Solway more than 20% of Scotland is covered by peat – an area almost the same size as Wales. Peatlands provide multiple benefits when healthy.
Restoring these magnificent peatlands has been made possible thanks to additional Scottish Government funding of £8million which will see another 8000 hectares of damaged peatlands start their road to recovery this year.
The Peatland Action Fund, run by SNH and launched in April, has already had more than £4million of applications but wants further applications before the closing date at the end of October.
Restoration techniques start with 'rewetting' of peatland, mostly through ditch blocking. This reconnects peatlands with water catchments, helping to slow river flows and, in some cases, ease downstream flooding. Other restoration techniques being trialled include peat hag re-profiling, re-vegetating bare peat and forest to pre-existing bog recovery.
Andrew McBride, the project manager, said: "Our drinking water comes from these peatland catchment areas, so healthy peatlands are crucial for clean water. River salmon and trout fisheries depend on clear water to allow the development of fish eggs laid in the river gravels. In addition, associated species like freshwater pearl mussels benefit from the peat free waters.
Soils are the main terrestrial store of carbon in Scotland and peaty soils are estimated to hold the equivalent of 140 years' worth of Scotland's total annual greenhouse gas emissions. That is an enormous store of carbon and by restoring and protecting this precious asset now we can make proactive gains towards Scotland's climate change targets."
Sunday is set to be International Bog Day 2017 in which the role bogs play in our environment is celebrated. Covering just 3% of the earth's land area, they are second only to oceans in the amount of carbon they store – twice that held by the globe's forests.
To celebrate International Bog Day 2017 'Our Portmoak' and 'Portmoak Community Woodland Group' in Fife are hosting a 'Tales of the peat bog' event, in which a peat core sample will be taken to tell the history of the bog.
Contact information
Name

SNH Media

Email
Scottish Natural Heritage is the government's adviser on all aspects of nature and landscape across Scotland. Our role is to help people understand, value and enjoy Scotland's nature now and in the future. For more information, visit our website at
www.snh.gov.uk
or follow us on Twitter at
http://twitter.com/SNH_Tweets
Tha Dualchas Nàdair na h-Alba na buidheann comhairleachaidh dhan riaghaltas a thaobh nàdair agus seallaidhean-tìre air feadh Alba. 'S e an dleastanas a th' againn cuideachadh a thoirt do dhaoine gus tuigse, luach agus tlachd fhaighinn bho nàdar na h-Alba, an-dràsta agus san àm ri teachd. Airson tuilleadh fiosrachaidh, tadhail air www.snh.gov.uk/gaelic no lean sinn air Twitter aig http://twitter.com/SNH_Tweets